I know life often means disappointments but it will take me a bit of time to get over missing out on a drive of Hyundai's new i30 N fastback – a high-performance car based around its hot-hatch stablemate.
See, the turbocharged 2-litre manual was a casualty of the coronavirus level 4 lockdown, I was due to have it within that period but it has since been seconded to duties in other parts of the country.
That aside, the other Hyundai models I was scheduled into have arrived, and a week with the latest generation Hyundai Veloster almost made up for not stepping into the i30 N.
The Veloster has been around since 2012, and has just undergone a major transformation. Saying that, the one element that makes the Veloster stand out from the crowd hasn't been changed. What appears to be a traditional two-door coupe is actually a three-door. Yes, there are two doors on the passenger side and just one on the driver's side.
The concept was first introduced with safety in mind, the rationale being that when children are seated in the rear they can only exit from the footpath side of the vehicle, egress to the road is denied. Bear in mind, too, that the Veloster is only a four-seater.
Some might say the design of the Veloster is outlandish, I'd say it is bold yet trendy, it is fresh and with an aggressive body and with vivid colours to choose from, the Veloster certainly makes a statement. The evaluation car was finished in a matte gun metal grey, it drew a lot of attention during the time it was in my care.
The Veloster arrives with two engine options – a 2-litre naturally aspirated unit that develops 110kW. Or else there is a 1.6-litre turbocharged option – the 150kW engine that powers several other Hyundai and Kia models.
The evaluation car was the latter, and it is an engine I'm quite familiar with, it is no outright powerhouse like the engine in the i30 N, but it is a feisty little unit and stands out for its honesty and fuss-free behaviour. Although it must be said there is genuine exhaust sound, there's a constant throb under load and an enticing crackle between gears.
When the Veloster first appeared, it was Hyundai's first full-production vehicle with a dual clutch gearbox; that type of transmission is still used, although it now gets seven gears that can be manipulated through steering wheel-mounted paddle shifters. In terms of driving, DCT units can be treated much like a normal automatic transmission, the big difference is that in itself it works like a manual but without a manual clutch and, of course, there's no power-robbing characteristics of traditional torque converter system.
The result is a quick shifting unit that doesn't load the engine, power is clean, and with a strong torque figure (265Nm) and available low, and all of the way between 1500 to 4500rpm, the Veloster turbo is a quick-reacting car which is no slouch against the stopwatch.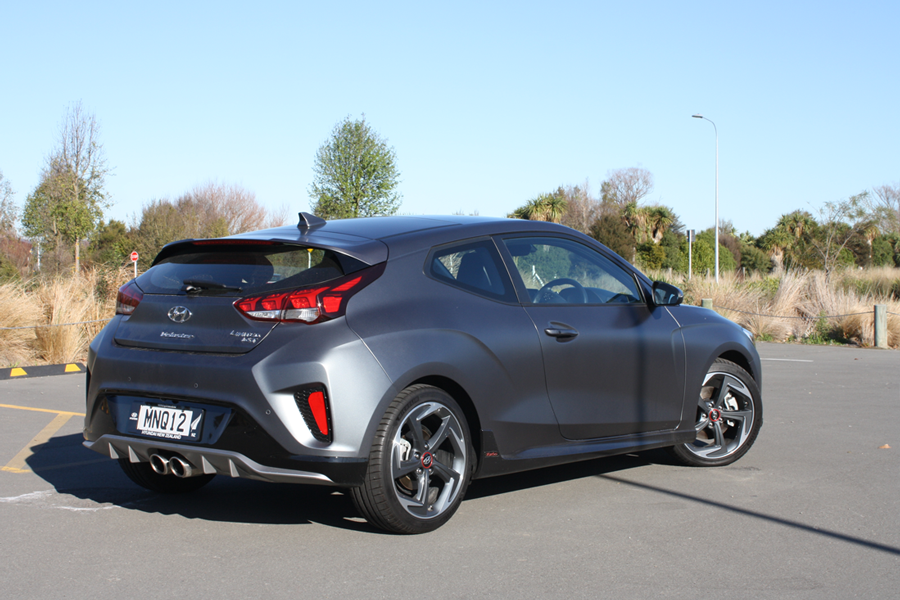 It will lunge to 100km/h in 7.5sec, which will satisfy those who are happy with moderate performance, but for me the big surprise is the mid-speed performance, it will scorch through a highway overtake (80-120km/h) in 4.2sec, made possible through solid turbo boost and quick-shifting ratios which are ideal for the wide cross-section of our driving styles and journeys.
On the subject of figures, the Veloster turbo is rated by Hyundai with a 7.1-litre per 100km combined cycle fuel usage average. At 100km/h I recorded an instantaneous readout of 5l/100km with the engine working over freely at 2000rpm.
I guess if you explore the turbo boost frequently it will be hard to match Hyundai's claim, and with just a 50-litre fuel tank you need to be mindful fill-ups may come around quicker than expected.
Nevertheless, I enjoyed the power and strength of that wee engine, it is delightful and provides the fun factor when you feel the need for a quick burst, taking into account that several drive modes allow the driver to choose how the car behaves, from economical to sport.
In terms of handling, the Veloster feels sharp up front with definite turn-in. Sport specification Michelin tyres (225/40 x 18in) have high-grip properties and combined with a fully independent suspension the car feels well attached to the road.
The Veloster turbo is only available in one fully-specced level – Limited. It is loaded with goodies such as full leather, heated and cooled seats, heated steering wheel, head-up display, satellite navigation, keyless entry and ignition, and all the other bells and whistles that make up Hyundai's top level trim spec. It also gets a full safety suite of technologies.
Hyundai has had a long history of producing two-door coupes, even though you could argue the Veloster is essentially a three-door. When I first started writing about cars in 1988, one of the first I drove was the Scoupe, Hyundai's first sporty car, that transformed into what Hyundai called simply Coupe around 1996, the Tiburon followed, then in 2012 the Veloster first landed in New Zealand.
That history has served Hyundai well, the Veloster is a beautifully-made car and one which is both fun and exciting. It dares to be different with its styling, but that is part of its appeal, if you want to stand out in a crowd, at $52,990 ($45,990 non-turbo), it's a relatively affordable way to make a statement.
---
Ross Kiddie